Who doesn't love a peony? I think it is a favorite all over the world.
I remember back when I was designing bridal gowns all those years ago, the spring brides always wanted peonies in their bouquet. My love for peonies started as a child growing up in a row house in Brooklyn. The row of houses had a common driveway in the center which gave you access to the back and the garages beneath our houses. There was little room for any gardens, but in our small patch we had a raspberry bush and a peony bush. Since then I have loved that flower and the smell brings me immediately back to those days when I had no idea what life would hold beyond playing with my friends and smelling the peonies.
I suppose it is their blousy beauty and their intoxicating smell that make them a favorite for so many. They come in a range of soft to deep colors which will fit in with any garden palette.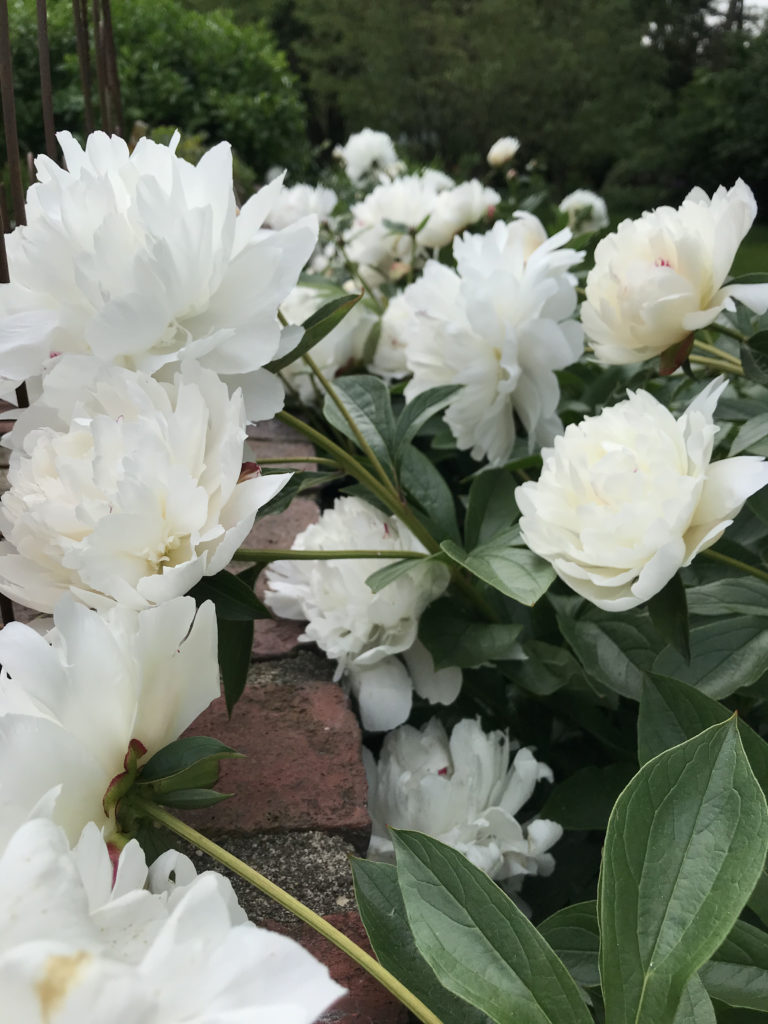 I have a client whom I love and whose garden is one of my favorites that I have worked on. I love it not only because of its beauty but because of the fact that she loves and cares for it as  one would care for a child. Many mornings you will find her out there with her apron and her hat and clippers: snipping, clipping, moving. She also is a lover of peonies and has many. I remember suggesting that she get all the varieties so that she would lengthen her peony  blooming season. All the different types would probably give you around 8 weeks of peony blooms.
There are four distinct groups of peonies. Within each group, there are also subgroups, but we'll save that information for another day.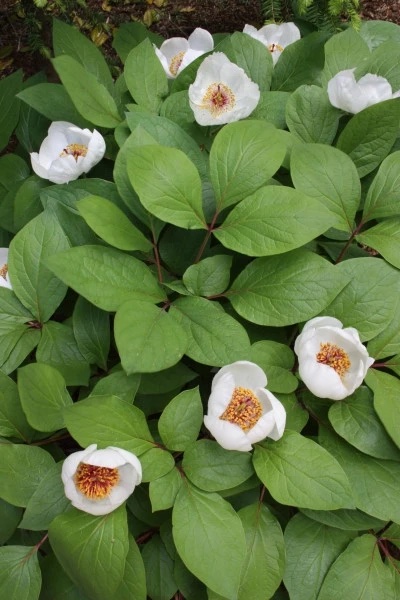 Woodland peonies are the first to bloom, and do so in early May. They are an understory peony which grows in the shade, photosynthesizing before the deciduous trees leaf out in spring.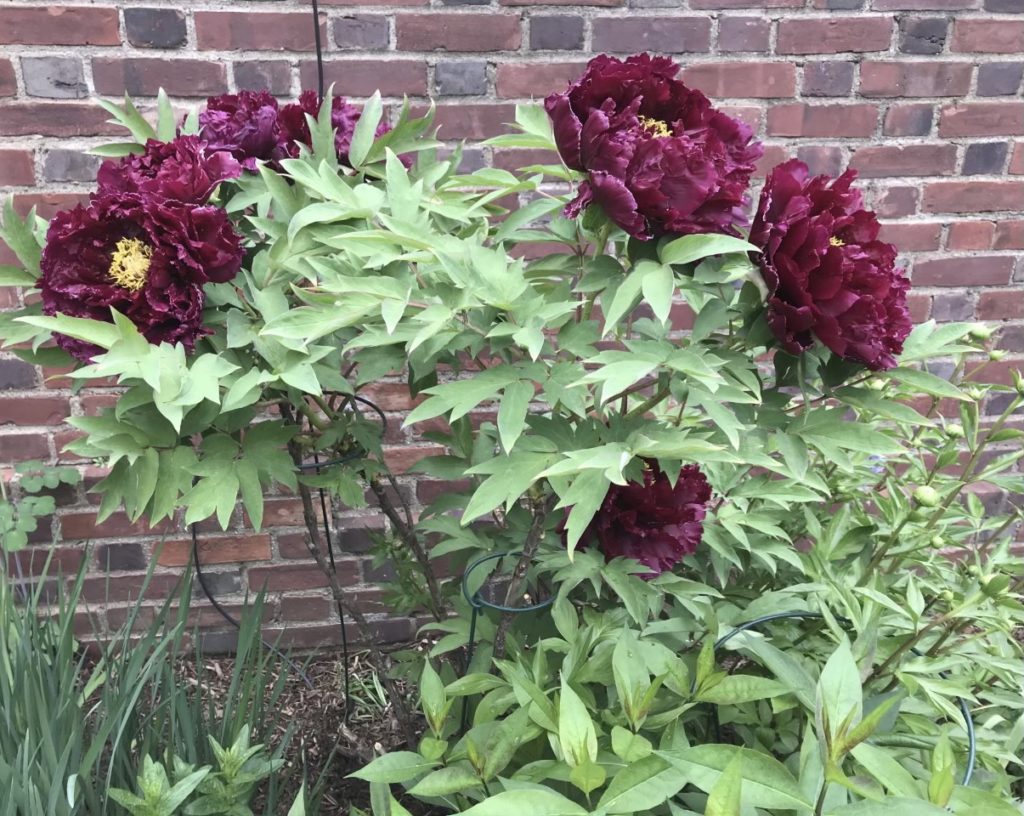 Tree peonies, which might be my favorite, do not die back to the ground as herbaceous peonies do and the blooms are big and open and gorgeous. They tend to bloom in my garden in mid May.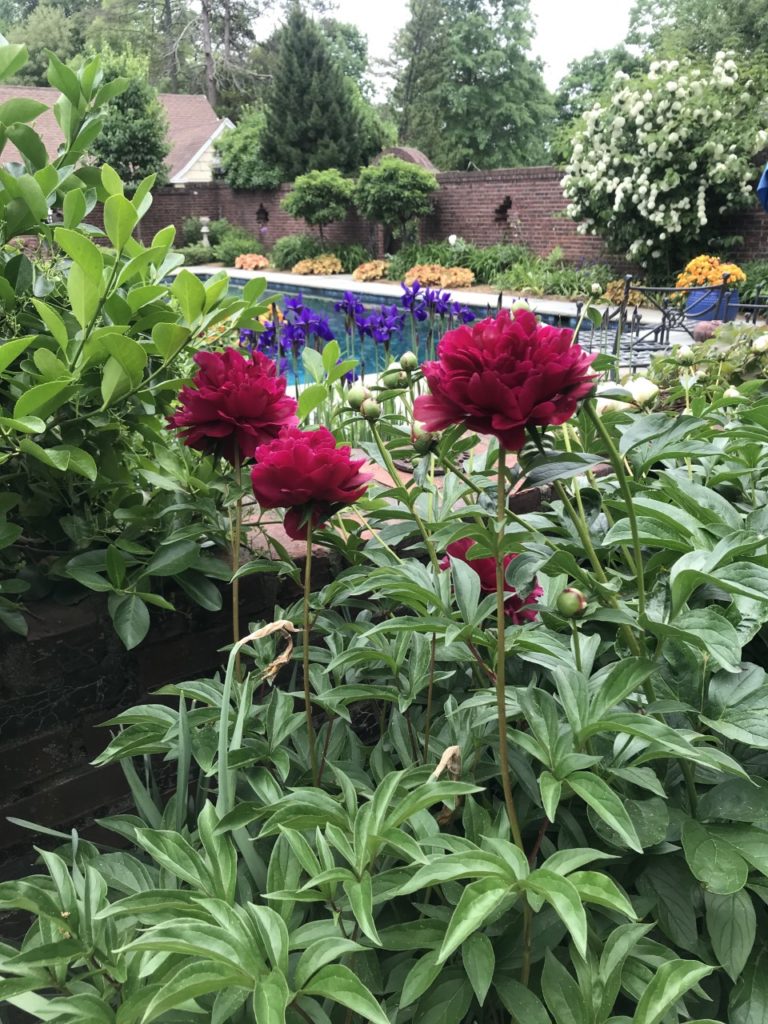 Herbaceous peonies bloom around the end of May and are the classic old fashioned, sweet smelling blousy bloomers we all know and love. They range in color from snow white to pinks, to shades of coral and deep burgundies.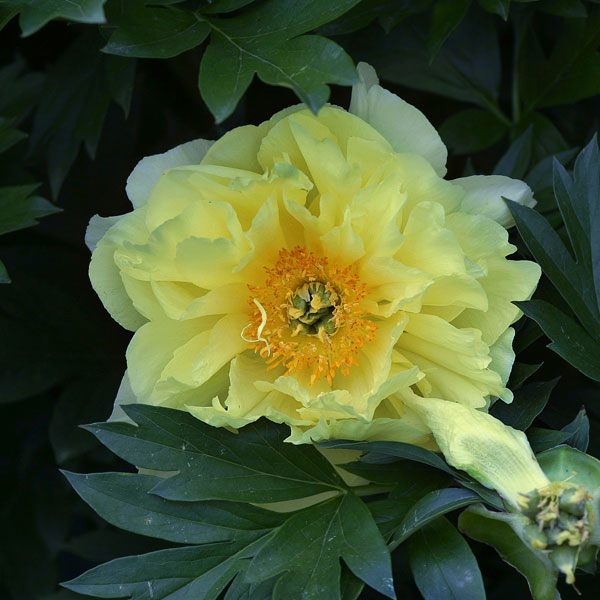 The intersectional or itoh peony is the last to bloom, and blooms the longest, with 2 to 3 blooming periods which range for around 2 to 3 weeks each.
How we love our peonies, yes, the mighty peony. But as I said in the title, mighty yet fragile.
The bloom of the herbacous peony especially is so big and and heavy with a stem that is not so strong and steady.
It seems to me I have witnessed a similar event year after year. The peonies bloom but then it rains and that is when their fragility shows. They flop. They always get knocked down by the inevitable spring rain. I have invested in peony rings for them but they are never quite tall enough to catch all the stems within the ring.
This year was no different. Rain was forecasted to start on Friday and go all weekend. I had an afternoon appointment with clients to go over the initial concept plan for their property. Worried about the rain, we had tried to reschedule. But between their two busy lawyerly schedules and my busy garden designer schedule we couldn't find a mutual time, so decided to risk it and stick with Friday at 3 as planned. We talked quickly and wrapped it up as fast as we could. I was in the car heading back to my office when the first rain drops started at a little past 3:30 and it came on fast and quick and it didn't stop. It rained all of the rest of Friday, all through Saturday and again Sunday. Monday morning it finally stopped, the sky was full of clouds and the sun hadn't yet shown its face but the birdies were tweeting and everything is green and verdant. Everything except for the mighty yet fragile peony that is. Even with peony rings, the support was not enough to keep them standing tall.
The moral of this story: enjoy peonies as they bloom. Cut them as soon as you can to enjoy them on your table and cherish them because as with all things, the peony does come to an end.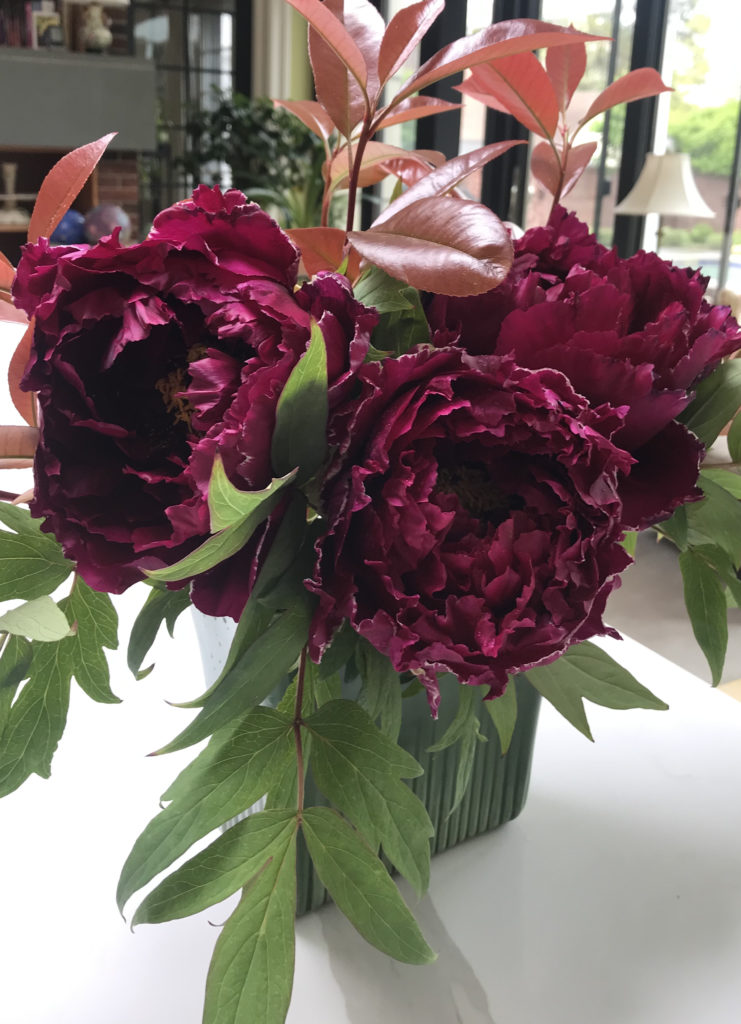 This blog is not a how to or what to do with peonies, but rather one that should serve as a reminder for us all: to stop and smell the peonies.