I have been a member of the Montclair Garden Club since 2004.
Years ago, I was on a garden tour here in Montclair when a woman came up to me and asked if I was a gardener or if I liked gardens. Of course, I said, "yes" to both and she replied, "You must join the Garden Club!" At the time, I really didn't know much about garden clubs. There wasn't a Garden Club of Brooklyn or, if there was, I wasn't aware of it. When I moved from Brooklyn to Manhattan, my garden consisted of windowsills and fire escapes, so no garden club experience there either.
It wasn't until I was approached by that lovely lady, to whom I will be eternally grateful, that the thought of a garden club even came to mind. I had no idea what to expect but I did join and now 13 years later, I can't say enough about the organization and the group of women who belong to it.
Today, I'm writing about a sort of field trip that I was lucky enough to go on.
The idea was first broached last winter; we wanted to plan an excursion to the Newport Flower Show. Having been to the Philadelphia Flower Show in the past, I knew it was something I would enjoy. It turned into a few beautiful days I will always remember.
A member of the club has a home nearby in Westport, MA and she put together an amazing trip. She coordinated it down to the last detail! I, along with nine other women, was invited to stay at her neighbor's home and was treated to a lovely and busy three days away. She organized trips to private gardens, lunches, dinners, and, of course, a lobster boil.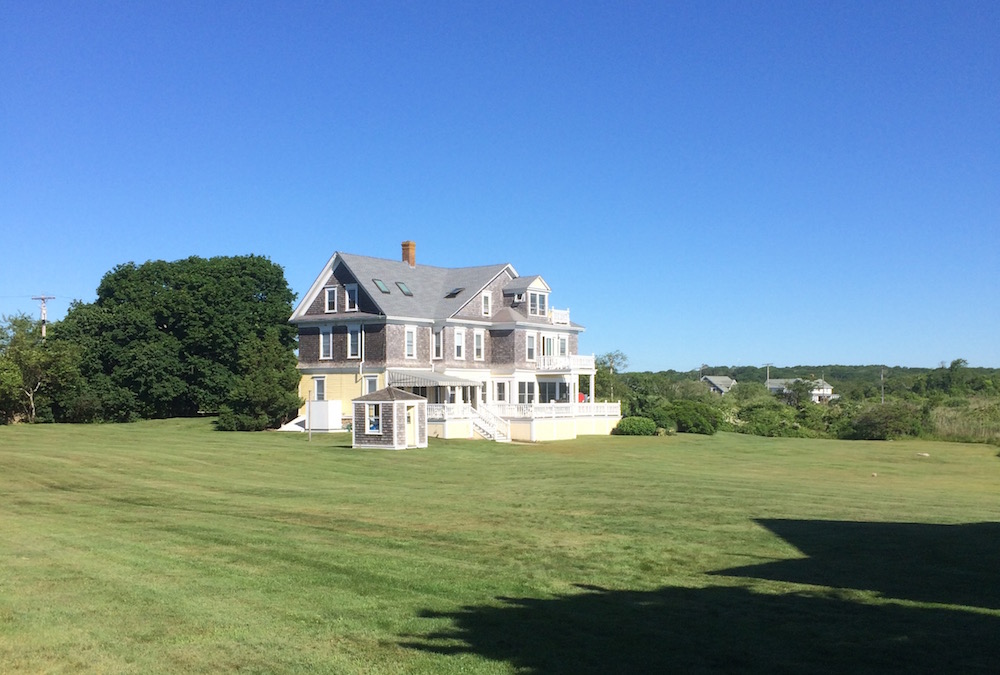 The First Day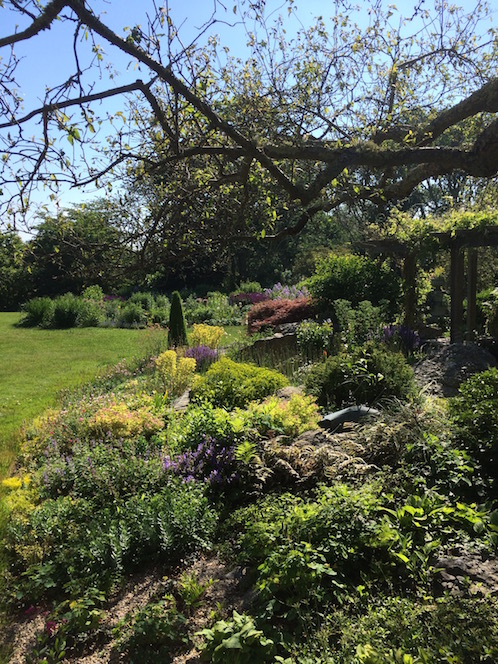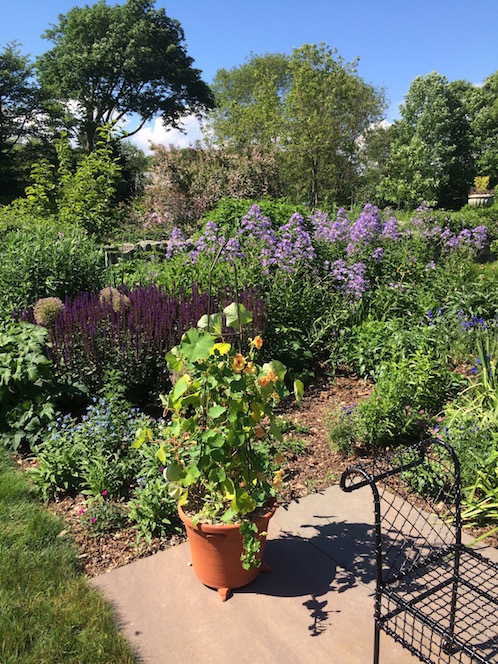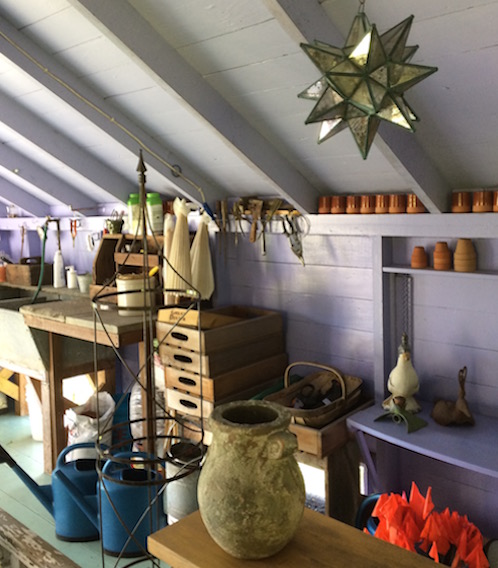 We arrived on Wednesday and after a quick unpack, we were taken to the garden of Gioia Browne and Jim Marsh, located in Little Compton, RI. Their garden is aptly named High Elms in honor of the two beautiful, century-old American elms that grace the front of the property.
They are gorgeous old trees with massive trunks and towering limbs. The garden, with classic New England stone walls, was filled with numerous beds of interesting and different plants. They also had a large and enchanting potting shed, painted in a soft shade of lavender on the inside. At the end of the tour, we were brought into the shed to enjoy water with fresh spearmint leaves.
Our tour of the garden was led by Crystal Brinson who, along with Gioia, tends to this peaceful oasis. We saw a number of new and unique plants, we discussed some of the methods used in the garden and learned a great deal. I suppose this might not sound overly interesting to some, but, suffice it to say, I was in heaven.
The Second Day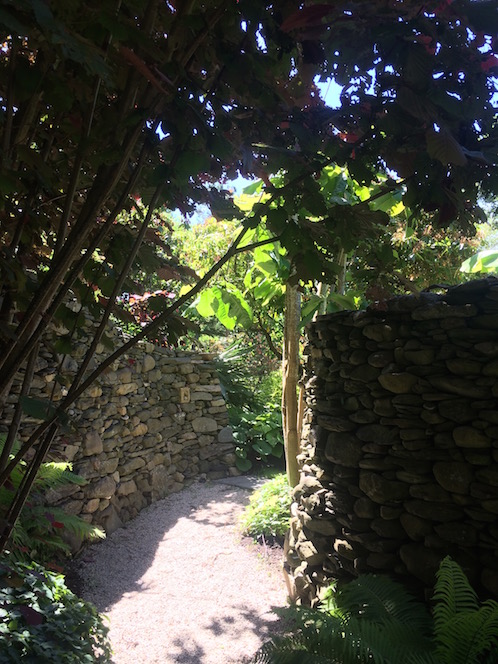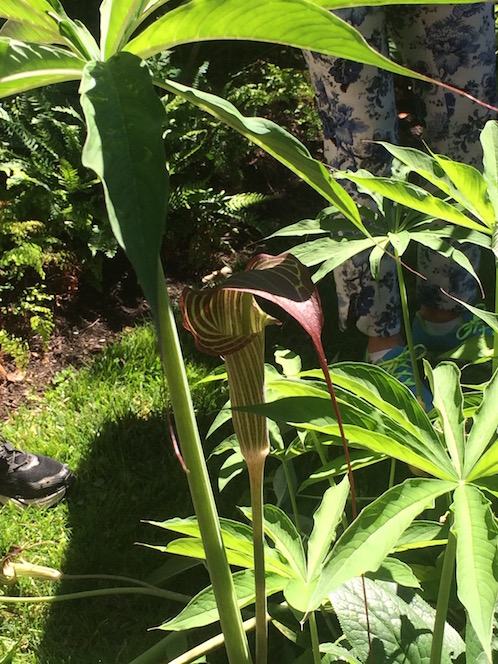 The following day, which was my birthday, we visited three other gardens. The first was Sakonnet Garden, which is just an amazing work of art with something new around every corner. It's a sort of secret garden: a series of intimate spaces or garden rooms connected by a path. You enter the garden and pass under a trellis and suddenly you realize you are in a very special place. The path winds from one garden room to the next, each distinct from the others, in a glorious journey of diverse plants and habitats.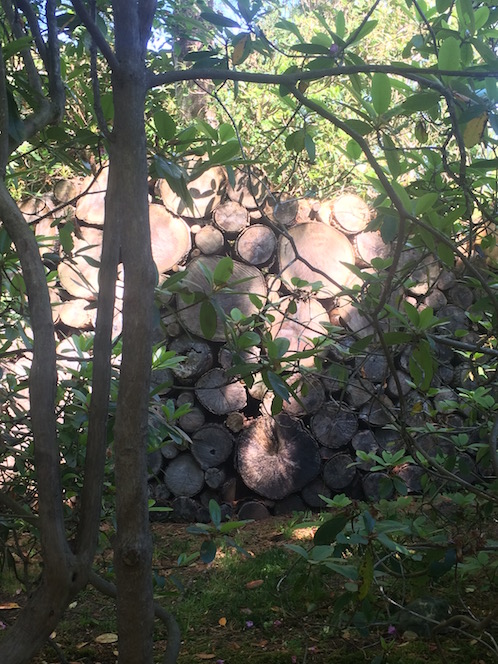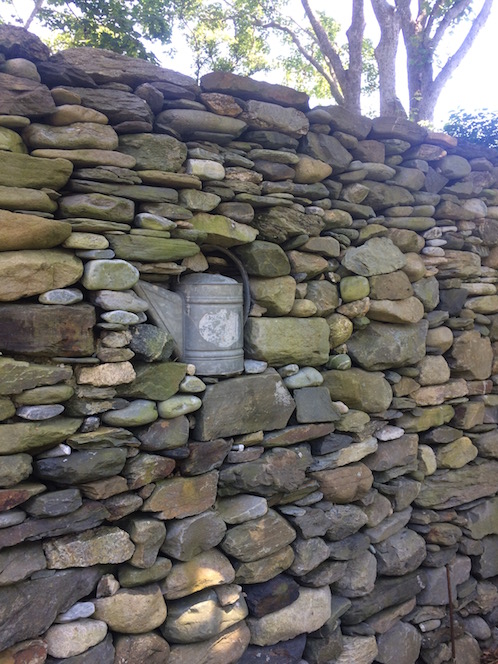 This garden is lovingly tended to by John Gwynee and Mikel Folcarelli. There are stone walls of epic proportions, some rounded and curved, some straight. One was created with a nook that was just the perfect size to hold the watering can. There is a wall with a door, made from the cross-section of tree trunks. The magic of the place is hard to explain in words. The list of plants goes on and on, including a small stand of my favorite tree, the Acer griseum.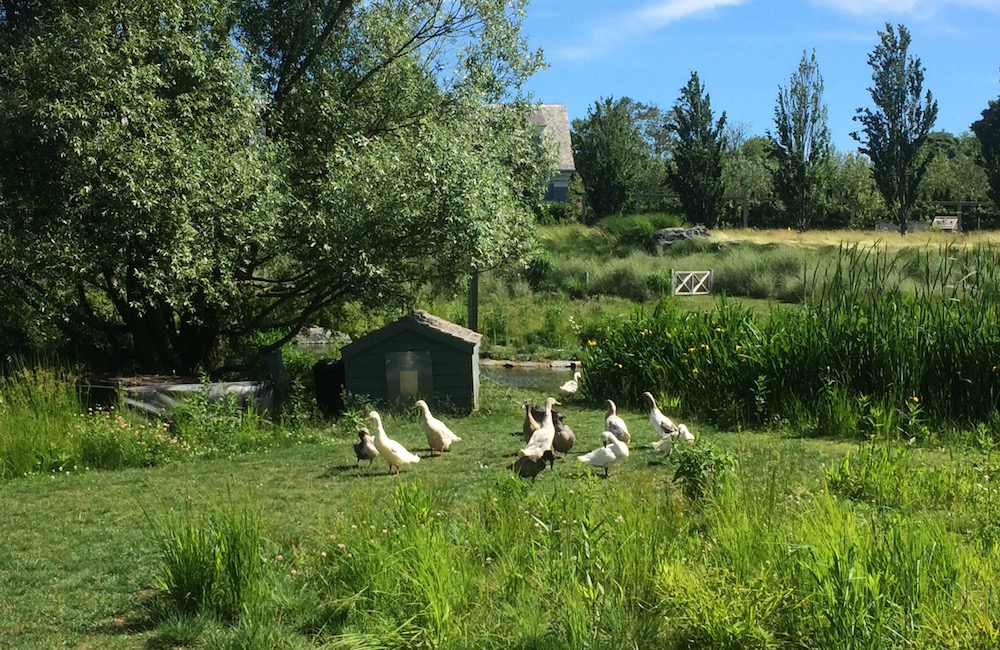 After a quick break for lunch, we were off to the second garden of the day, which was in Newport, RI. It's called the Gardens at Parterre. This property is comprised of "a series of gardens in the classical French tradition, designed with an American accent and Newport inspired details," as stated by the designer Bettie Bearden Pardee. You enter the garden through a pair of wrought iron gates. The first garden room is known as the Winter Garden and contains an amazing "love knot" of evergreen cotoneaster growing over a swirling trellis on the wall of the house.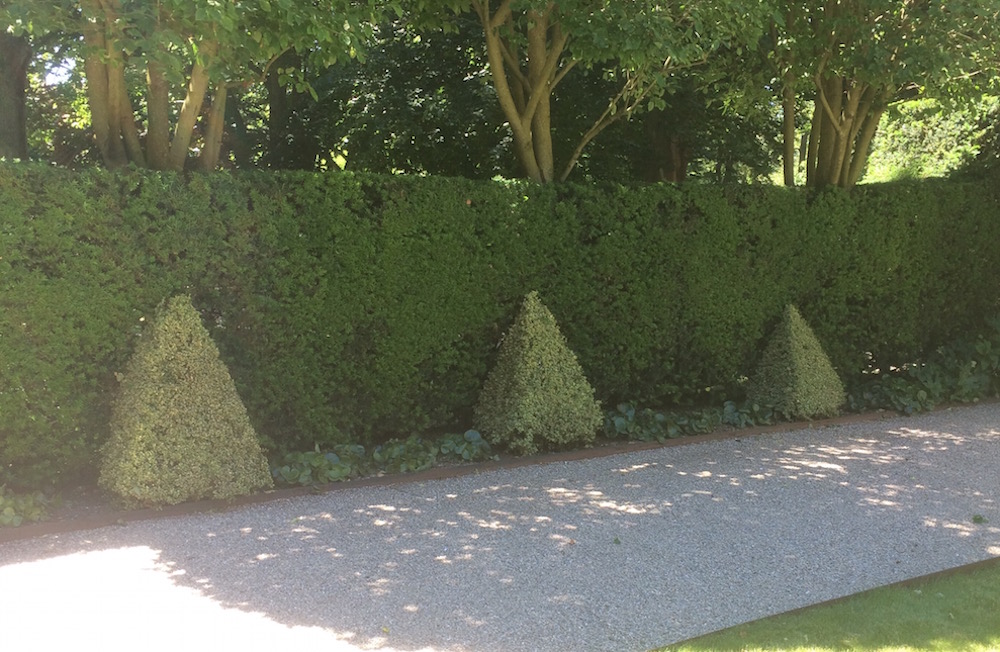 There are a number of evergreen hedges pruned to perfection so that even in the dead of winter, there is something green for the eye to see. There is the Black and White Garden tucked behind the orangerie, which is a study in shapes and textures and various shades of green. There's also the Potager Beds, each with a Holly Jolivette cherry tree in the center pruned to be on standard. The garden is a real feast for the eyes.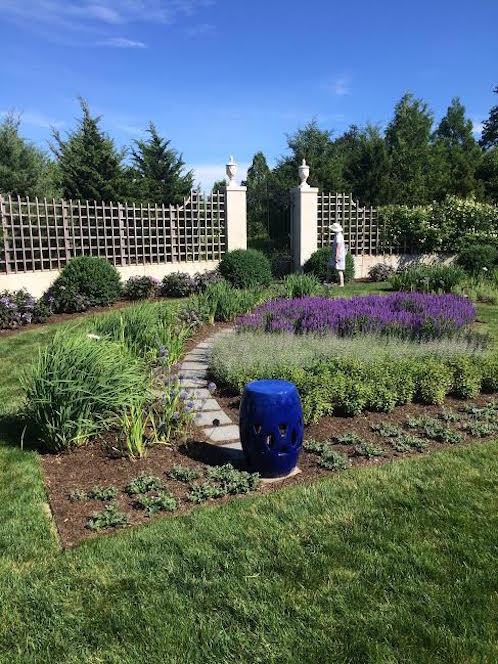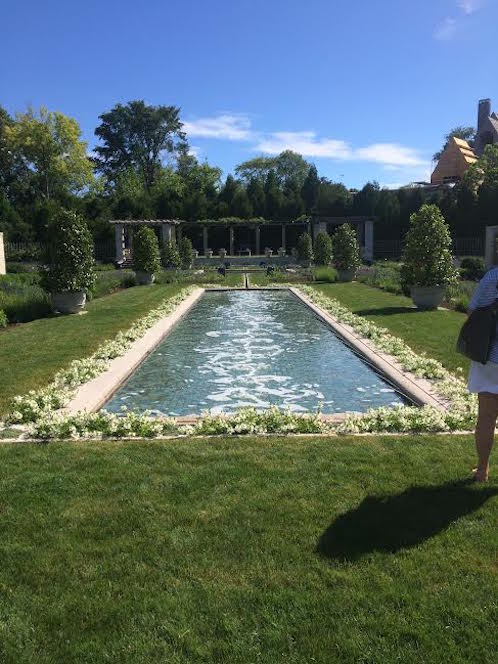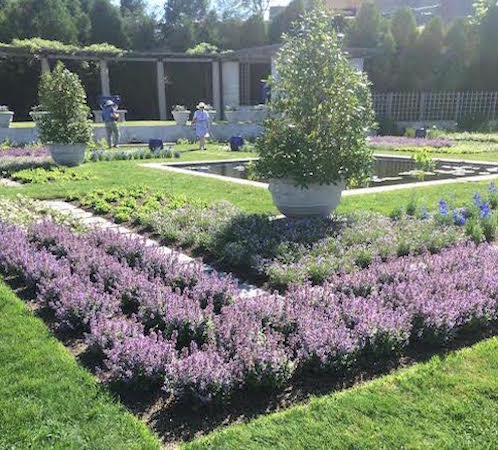 We ended the day at the Blue Garden, which was designed and built in 1917 by Frederick Law Olmsted, Jr. for the James family at their Newport estate, known as Beacon Hill House.
After the deaths of Arthur and Harriet James, the gardens fell into disrepair and the once celebrated garden caved in under the weight of weeds and invasive trees and vines. In 2012, the property was purchased by Torrance Hamilton, a noted philanthropist with a great interest in preservation and gardens, who was responsible for the restoration of the Blue Garden.
It has been reinterpreted into a beautiful palette of perennials, annuals, shrubs and vines, all with various shades of blue and white flowers surrounding two pools connected by a rill along the central axis of the garden.
The Third Day
Our third and final day was spent visiting the Newport Flower Show, held at Rosecliff. We enjoyed looking at the flower designs, as they are the same designs we do at our monthly competitions in Montclair. It was interesting to see those designs in a different setting than our club room. There really isn't much else I can say except thank you for a lovely few days and I look forward to visiting again.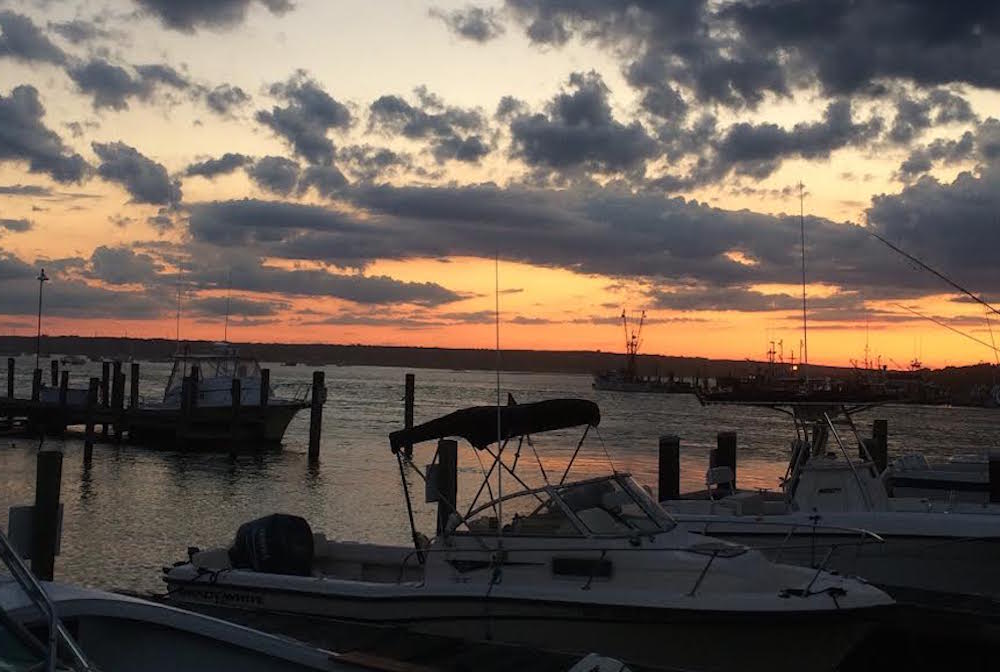 The sun is setting and it is time to go…